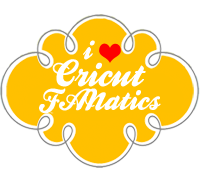 Hi Friends and Fellow Crafters!
I wanted to share a new blog with you today. Since there are no longer Provo Craft Cricut Circle or Public Blogs, a group of very talented crafters have gotten together and formed the Cricut Fanatics blog that is launching today. I am lucky to be a part of the team.
We have a lot of crafty inspiration planned for you each and every day all month long.
Our designers have been hard at work preparing some amazing projects to inspire you. Each day different designers will showcase the Cricut in their own unique ways. Be sure and stop by every day to get your crafting dose of goodness.
Each month we will have a
Theme of the Month
that our designers may follow.
Our theme for
September is End of Summer
...projects can run the gamut from Back to School, Vacations or Things We Loved About Summer.
We have some great challenges planned for you to join us and show off your own creations.
On the 5th of each month we have our Cricut Crafty Challenge. We will give you a "recipe" you need to follow to create your own project and then you link up in that thread to be eligible to win a prize.
On the 20th of the month we will have our
Cricut Sketch Challenge
. You use the sketch we provide and make either a card or layout following the basic sketch design and your Cricut. Link up your project and we will select a few people the following month on show off their sketch project on Cricut FANatics. It's a great way to get to know members of our Cricut FANatics community.
And on the 15th of each month we have lined up some Special Guest Designers to wow you. These are some of our favorite Cricut Designers we have all come to know and love their Cricut projects. You won't want to miss their special projects.
But wait, that's just the great stuff that will happen EVERY MONTH on Cricut FANatics.
So how are we going to celebrate Cricut FANatics Grand Opening...why with prizes of course !
During the entire month of September we are going to be giving away one Cricut cartridge every Friday and one BIG grand prize at the end of the month.
For a chance to win each week you need to do the following:
Be a follower of our blog
Make one kind comment on each designers blog post during the week to be eligible for the weekly prize.
The weekly comments deadline is at 11:30 pm CST on each Friday in September.
Weekly Winner will be announced on the following Saturday.

The Grand Prize drawing will be held on the last day of September and a winner will be drawn from all weekly entry comments. More info on the

Grand Prize will be announced later this month.
Be sure and grab our Cricut FANatics Blog Button when you stop by the blog. We hope what we have planned inspires you to create with your Cricut products.
So here is the link to this wonderful new endeavour. Won't you stop by and see what is happening?
Cricut FANatic Blog
Thanks for stopping by my blog today!
Happy Crafting!
Colleen