Good Morning Everyone!
The digi stamps have all been emailed, so make sure you check your mailboxes!
So I was trying to dig out of my email this morning and I popped over to
Karel's Birthday Bash
to see what's going on there today. She has some great projects and her new design team is featuring amazing talent! I was happy to see Calie from the Cricut Board is one of her designers. Karel mentioned that she met Calie back during the Inchie, Twinchie, and Trinchie days. I was also part of those swaps, and I have barely scratched the surface of the endless amounts of little embellies I swapped. While I was reading Karel's blog, my ADD kicked in and somehow, I ended up clicking a side blinkie. That led me to this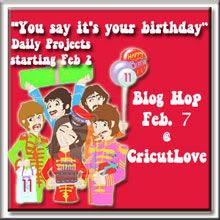 A Beatles Blog Hop!!! I just had to post the blinkie here because I am such a huge fan. I haven't gone through all the posts yet, but you know I will! The host for the hop made a sweet notebook featuring the Fab Four. If you are a fan, you should check it out. They are also offering some great candy!
I can finally see my Christmas decorations on the front lawn, so I am off to try to get them up before the next round of storms!
Happy Crafting!
Colleen